Dr. Somayeh Sadeghi is a General Dentist at West End Dental Centre in Trenton.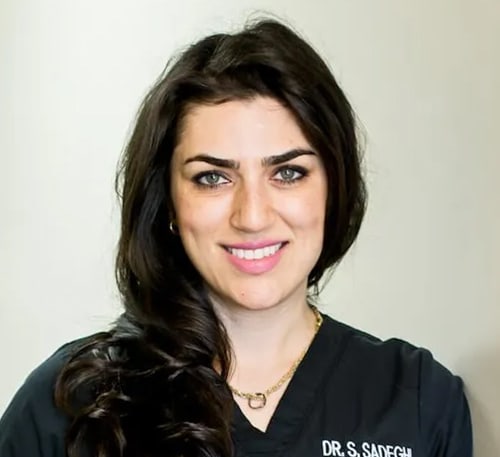 Dr. Sadeghi
General Dentist
DMD, McGill University
Dr. Somayeh Sadeghi is a graduate of Montreal's McGill University, where she qualified as a dentist in 2011. Dr. Sadeghi also holds a master's degree from McGill, where her research focus was on chronic pain in the jaw, resulting in several published papers. She completed a general practice residency at the Albert Einstein College of Medicine in New York City, and an Implant Residency at the University of Toronto, before moving on to work in Northern Saskatchewan for four years. Dr. Sadeghi is now settled in Trenton, where she and her team offer general and comprehensive dental care to the entire family - from children to grandparents.
An advocate for the importance of oral health and preventative practices, Dr. Sadeghi has in the past served as a volunteer care provider of dental care to those in need in numerous countries. 
When not at work, Dr. Sadeghi enjoys travelling, gardening, reading, and cooking. As a former lifeguard, she's an avid swimmer. She has taken up golf, but despite great determination, does not see a golf career in her future. Patients routinely describe her as friendly, professional, compassionate and gifted. They also find it 'pretty cool' that the ring she wears on her necklace is a memento of her bachelor's degree in Electrical Engineering from Concordia University.
Dr. Sadeghi also has a little 'secret' many of her patients can relate to – she'll skip a meal for anything sweet and can be bribed with ice cream. Keep that in mind next time you see her at your favourite ice cream shop!