Dr. Shahryar Rashti is a General Dentist at our Trenton dental clinic and is certified to provide moderate IV sedation to help ease his patients' dental experience.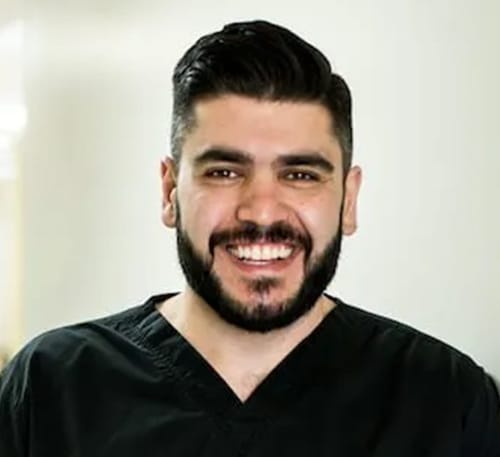 Dr. Rashti
General Dentist
DMD, McGill University
Dr. Shahryar Rashti grew up in our Nation's capital, wherein in 2006 he completed his Bachelors in Science with Honours from the University of Ottawa. Upon graduation, he moved to Montreal to pursue his career in dentistry at McGill University. Dr. Rashti continued his education by completing a General Practice Residency at the University of British Columbia and Vancouver General Hospital. The program allowed Dr. Rashti to work closely with various specialists and to pursue the fields of sedation, oral surgery, periodontics, endodontics, orthodontics (Invisalign), pediatrics, oral pathology, and radiology.
Dr. Rashti's love for the mountains, ocean, and nature made it difficult for him to leave the West Coast, where he practiced as a general dentist for six years. It was in Vancouver where he participated in the AAID Maxicourse, a full-year continuing education program in the field of Implantology. Dr. Rashti is now currently training to become a board-certified Oral Implantologist through the American Academy of Implant Dentistry (AAID). Dr. Rashti is also certified to provide Moderate IV sedation.
In 2017, Dr. Rashti joined his colleague and lifelong friend, Dr. Somayeh Sadeghi, at West End Dental Centre. It was not a difficult decision to join her team, as they share the same vision for their patients. Together, they strive to provide patients with comprehensive dental treatment.
When not thinking about teeth, Dr. Rashti lives an active, social and healthy lifestyle. In wintertime, you will find him on the ski hills snowboarding or skiing, and in the summer, you will find him on various hiking trails, biking around or at the gym. The truth is, he stays active with his love of food. He enjoys working in the kitchen and creating delicious food for his family and friends. Having a passion for the arts – he is also a regular at galleries, exhibitions, and shows. Although he has many interests, nothing compares to his love of travelling, so don't hesitate to ask him about his latest exploration.